Image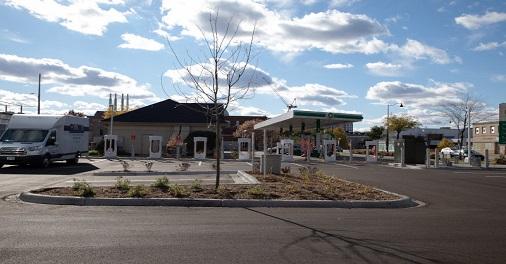 For years, Madison Gas and Electric (MGE) has led the charge to make charging an electric vehicle (EV) faster and more efficient for customers. Over the past decade, the company has established a network of public charging stations that provide 100 percent renewable energy generated by wind farms in Wisconsin and Iowa.
Soon, MGE also will offer a new EV fast-charging hub in the heart of Madison's Capitol East District. 
MGE has nearly finished construction of the hub, which will feature eight fast charger stalls with power levels up to 350 kilowatts, meaning each minute of charging provides 12-18 miles of travel. Thanks to a partnership with Tesla, the hub also includes eight Superchargers.
The stations are expected to be among the fastest EV charging stations in the Midwest.
"Our new fast-charging hub will provide convenient EV charging—powered by renewable energy—for nearby commuters, EV fleet vehicles, taxi and ridesharing services, as well as apartment and condo dwellers and single-family households," said Rob Crain, MGE's Director of Customer Experience and Energy Services. "Electrification is a key strategy for reducing carbon emissions and achieving net-zero carbon electricity by mid-century. Quick and easy EV charging will help to enable the growth of cleaner, more sustainable transportation options."
MGE provided a DC Fast Charger station at a City of Madison Fire Department fire station to support its pilot program to test a plug-in hybrid fire truck. The Volterra zero-emission pumper truck, which was the first of its kind in North America, reduces fuel consumption and cuts down on noise. The pilot started in 2021 and has been extended another year.
"We have worked closely with the Fire Department throughout this process to help ensure the new truck is charged and ready to respond to serve our community during emergencies," said Crain. "This project is one of the ways MGE partners with the City to advance sustainability across our community for the benefit of everyone who calls the Madison area their home."
(Photo courtesy: Madison Gas and Electric)