Image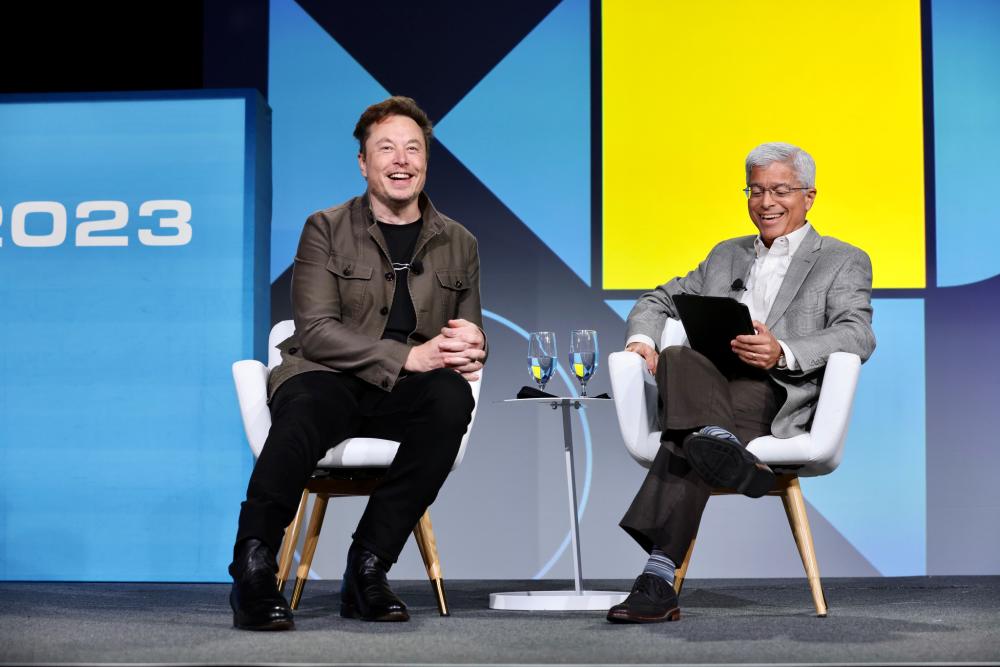 The electrification of transportation was front and center last month at EEI 2023 in Austin, Texas. During a keynote, EEI Chair Pedro J. Pizarro, president and CEO of Edison International, and Tesla CEO Elon Musk discussed the future of electrification that will be driven, in part, by EVs.
"We should expect electrification of transport, especially passenger vehicles, quite quickly," said Musk. "Electric vehicles are growing exponentially. The larger point is that the need for electricity is going to be extremely high. It's going to take a tremendous effort to address this demand for electricity."
"The electrification of transportation and more across the economy is going to be key for reducing emissions over time," said Pizarro. "It's exciting to see funding from the Bipartisan Infrastructure Law, the Inflation Reduction Act, and more—it's transformational for the United States. But we still need more help. Permitting and siting reform is one of the pieces, and another is the expanded partnership between electric companies and companies like Tesla."
They also discussed Tesla's recent partnership with Ford and GM (and, since the conversation took place, with Mercedes-Benz, Rivian, Volvo, and Nissan) to share EV charging infrastructure: "I think opening up the chargers is morally right, and it was something that will help power sustainability," said Musk. "We're really trying to do the right thing here. We will support all electric vehicles on equal footing; we're not advocating for special treatment of Tesla. We're trying to clear a path for sustainability."
Musk concluded by stating: "Everything is going to be electric. I don't know what your plans are for future electricity demand, but it's going to be much higher than you think. You should start to plan now. We're trying to work to a sustainable energy future, and it's going to take many technology solutions to get there."
Visit EEI's YouTube channel to watch the entire keynote.
Electric Transportation in The Hub
Several sessions at EEI 2023 focused on the electrification of transportation, the record investments the federal government has made in expanding EV charging infrastructure, and new commercial partnerships that are forming to support the growing adoption of EVs.
EEI Senior Vice President of Customer Solutions Phil Dion moderated a panel about how electric companies and their partners are ensuring that EV charging is accessible, affordable, and reliable. During the panel, Exelon President and CEO Calvin Butler mentioned the U.S. Environmental Protection Agency's Clean School Bus Program, which is an effort to replace diesel school buses with cleaner electric and lower-emissions models. 
"Under the Clean School Bus Program, Exelon partnered with our jurisdictions to understand where they wanted to get to [in terms of emissions]," said Butler. "When you look at fleet electrification, this is a great way to impact the air quality in lower-income and minority communities. ... What the federal government has done is allow electric companies to partner in ways and to access dollars that have never been there before."
Throughout the afternoon, The Hub hosted a series of deep-dive discussions on electric transportation and hydrogen as a clean energy source. EEI Senior Director of Electric Transportation Kellen Schefter moderated several conversations on the future of electric transportation and EV adoption and integration, including a discussion with WeaveGrid CEO and Co-Founder Apoorv Bhargava on the company's innovative software facilitating EV-energy grid integration. Spotlight presentations from Sysco, Hertz, and First Student also highlighted the speed at which fleet operators are electrifying, and the urgent need for collaborating with electric companies to build the enabling infrastructure. 
Visit EEI's website to see highlights from EEI 2023. Be sure to mark your calendars for EEI 2024, taking place at the Fontainebleau Las Vegas from June 18-20.