Image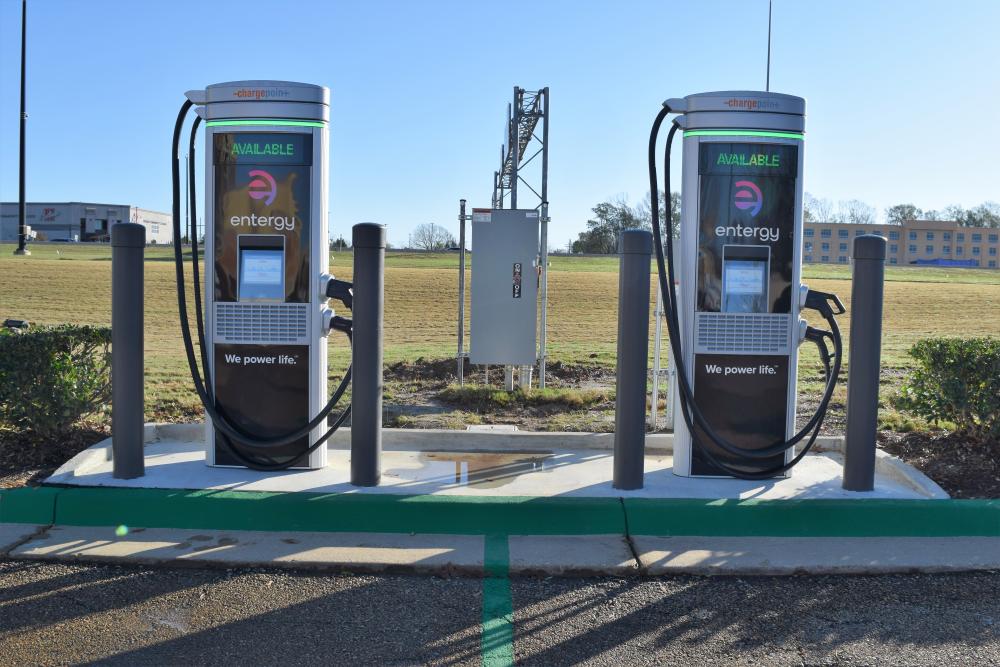 Entergy Mississippi, a member of the National Electric Highway Coalition, marked a major milestone this month with the launch of an electric vehicle (EV) fast charging pilot project that is the first company-owned EV charging station in Entergy Corporation's four-state service area. 
The company's $200,000 fast charging station in Ridgeland, Miss. will serve both residents and EV drivers passing through on nearby interstate highways. In addition to supporting EV drivers, the pilot project also will enable Entergy Mississippi to study the impact of EVs on the energy grid. Insights on frequency, time of day, and location can help the company prepare for improvements that may be needed as electricity use from EV drivers increases.
"The complexities of the energy grid require us to plan years ahead of when we'll need infrastructure in place to serve our customers," said Haley Fisackerly, president and CEO, Entergy Mississippi. "By proactively installing this fast charging EV station pilot project, we'll be able to learn in real time the effects EV use has on our systems and implement technologies to help manage the demands we expect in the future."
The station is equipped with two fast chargers that provide up to 120 kilowatts of power and are compatible with many different EV models. Customers using the charging station pay $.30/kilowatt-hour (kWh) and, on average, an EV can be fully charged for $20-$30 within 30-45 minutes. 
"It's important for the public and private sectors to be studying the utilization of these systems now regarding potential growth of electric vehicles in our state and the infrastructure needed to support their use," said Commissioner Brent Bailey, central district, Mississippi Public Service Commission. "I appreciate the efforts of Entergy Mississippi as we all share the goal to better understand the electric vehicle market, infrastructure needs, and customer habits."
EEI estimates that there will be more than 26 million EVs on U.S. roads in 2030. As EVs become more accessible and affordable, more customers are switching to driving electric across the country.
Pilot projects such as this can help Mississippi towns and cities—as well as the state— understand how they can prepare to meet the demands of EVs on their communities.
"Entergy Mississippi's DC fast charging station pilot program will help us ultimately bridge the 'charging gap' on Mississippi roadways in (all areas) rural and urban," said Willie Simmons, Mississippi Department of Transportation, central district commissioner. "Our hope is that one day EV drivers will no longer have to bypass our state because of a lack of charging infrastructure which hurts tourism and economic activity. This public and private collaboration investment will yield great returns for the public sector."
Entergy Mississippi has supported other EV initiatives in addition to this project. In 2011, through Entergy's Environmental Initiatives Fund, the company funded EV charging station installations at universities across its service territory for use by students, faculty, and staff, including stations at Jackson State University, University of Mississippi Medical Center, and Mississippi State University.
"Now we're expanding beyond our universities, and we're grateful to the City of Ridgeland for granting us the permits to construct this charging station," Fisackerly said. "The lessons we learn through this pilot will help us better advise municipalities and developers throughout our service area as they plan for future electric vehicle charging stations in their area."