Image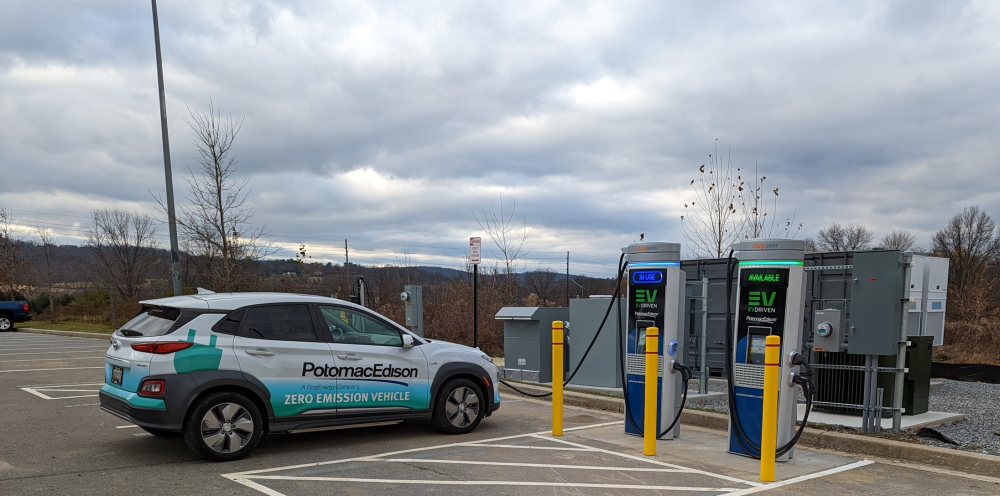 Potomac Edison, a subsidiary of FirstEnergy, announced it has completed a battery energy storage project that is paired with two new EV fast charging stations and one Level 2 charging station in Frederick County, Md. This project will allow Potomac Edison to study how energy storage can help minimize the impact of EV charging stations' demand on energy grids.
The $1.4 million system is owned and operated by Potomac Edison. The two fast charging stations, located at a public parking lot near an interchange for Interstate 70, can provide an 80 percent charge for most EVs in less than an hour, enabling drivers to recharge during a break. The Level 2 charging station at the site can accommodate two vehicles for simultaneous charging and delivers eight to 24 miles of range per hour of charging.
The battery energy storage system includes a 500-kilowatt battery that provides uninterrupted EV charging and that reduces the load drawn from the energy grid by powering the charging stations during peak demand times. The system also helps bolster reliability – if there is a power outage, the charging stations will be energized by the battery-supplied energy.
"This exciting new energy storage project will provide us with valuable insights as we prepare to maintain and enhance system reliability in the future as electric vehicle adoption increases," said Linda Moss, president of FirstEnergy's Maryland operations.
The EV charging stations are part of Potomac Edison's EV Driven pilot program, through which Potomac Edison is installing 59 charging stations, including 20 fast charging stations, across its seven-county Maryland service territory. In addition to supporting EV drivers, the program is designed to help reduce auto emissions and support Maryland's goal of reaching 300,000 zero-emission vehicles on the road by 2025.
EEI projects that there will be more than 26 million EVs on U.S. roads in 2030, and members of the National Electric Highway Coalition, including Potomac Edison's parent company FirstEnergy, are supporting the deployment of EV charging infrastructure to help growing adoption of EVs and ensure EV drivers travel with confidence. Innovative projects like this one not only support the growing number of EV drivers but also prepare the energy grid for the transition to electric transportation.
Learn more about Potomac Edison's project on FirstEnergy's website.