Image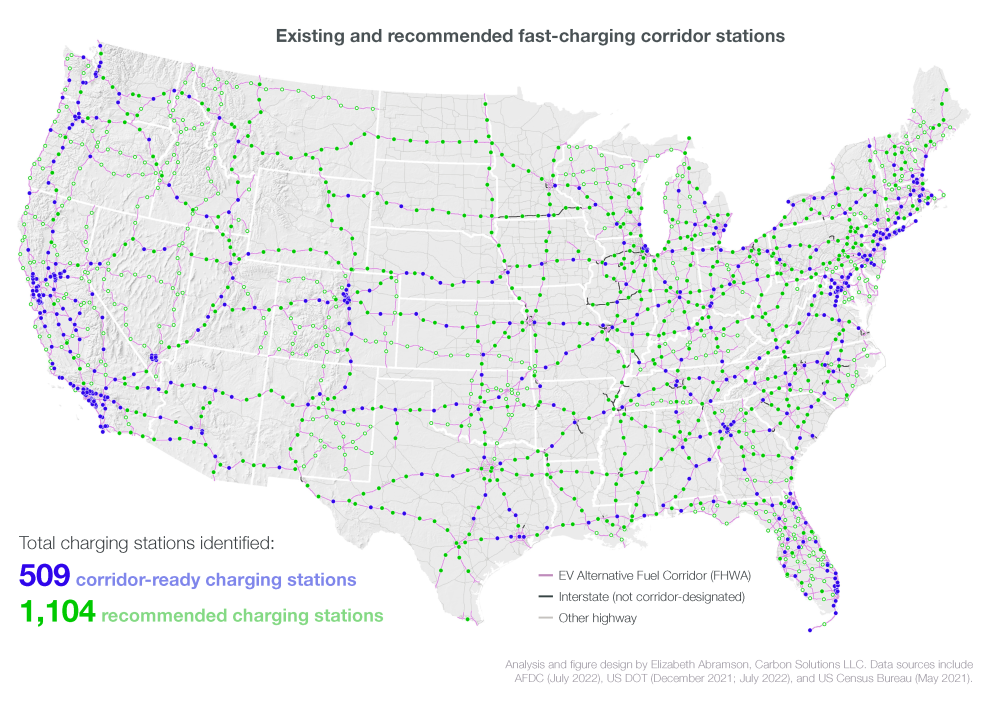 The National Electric Highway Coalition (NEHC) and our partners are committed to deploying and supporting electric vehicle (EV) fast-charging stations across the country. The United States needs at least 1,104 additional new fast-charging EV facilities to support seamless long-distance EV travel, according to the United States EV Fast-Charging Corridor Road Map analysis by the Great Plains Institute (GPI) and Carbon Solutions.
These EV fast chargers must be compliant with the Federal Highway Administration's National Electric Vehicle Infrastructure (NEVI) Formula Program and are needed to ensure all currently designated EV Alternative Fuel Corridors and non-designated interstates could comply with NEVI guidelines, the analysis found. 
Of the nation's 4,943 existing public, non-Tesla fast chargers, there are 509 that comply with basic NEVI Formula Program requirements. An interactive road map, prepared for GPI by Carbon Solutions, allows users to better explore the current and proposed network of chargers.
"A foundational build-out of EV fast-charging infrastructure is critical to providing drivers with the confidence they need to make the switch to an EV," said Kellen Schefter, senior director of electric transportation at the Edison Electric Institute. "This road map provides the clearest view yet of the gaps in the national EV fast-charging network. We are eager to use this tool with our member electric companies, as well as with states and other stakeholders, as we work together to plan for the infrastructure needed to provide reliable and accessible EV fast charging."
The NEVI program was established under the Bipartisan Infrastructure Law to fund and support the development of a comprehensive fast-charging network along key national travel corridors. It provides $5 billion over five years in dedicated funding for states to strategically deploy public EV charging infrastructure supporting long-distance EV travel.  
To be NEVI-compliant, EV charging stations must:
Include at least four ports with connectors capable of simultaneously charging four EVs at 150 kilowatts (kW) each, with a total station power capacity of 600kW or more. 
Be located within one travel mile of a designated EV Alternative Fuel Corridor. 
Be spaced no more than 50 miles apart along a designated corridor.

"With increased federal funding available for expanding charging access, we hope this analysis is a useful resource for state governments, private sector charging companies, utilities, site hosts, and other key parts of the EV charging ecosystem," said Brendan Jordan, GPI's vice president of Transportation and Fuels.
EEI estimates that there will be more than 26 million EVs on U.S. roads in 2030, and the NEHC and our partners will continue to analyze the best strategies for building and optimizing EV fast chargers, help ensure that EV charging is a positive experience for customers, and deploy more EV fast chargers to meet the needs of EV drivers in 2030 and in the decades to come. 
Read the United States EV Fast-Charging Corridor Road Map press release and analysis, and use the interactive road map.